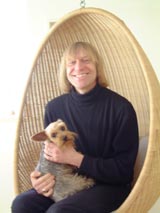 James Putnam is an independent curator and writer. He studied Art History at London University and went on to join the Egyptian Antiquities and then the Education Departments of the British Museum having curated contemporary projects both for and independently of the Museum. In 1994 he curated the critically acclaimed exhibition 'Time Machine' which juxtaposed contemporary art with historical artefacts. He founded the British Museum's Contemporary Arts and Cultures Programme in 1999 which relates to the philosophically rigorous role of museums: to examine and re-examine history, art and artefacts in the light of current cultural-related issues.

James Putnam initiates projects with a cross-disciplinary approach, working with visual and performing artists, designers, writers and cultural studies specialists. He develops residencies, installations, talks and performances and conferences in collaboration with national and international institutions. He has organized exhibitions at unusual venues which combine contemporary art with historic sites and artefacts, like the ongoing series of exhibitions he curates at the Freud Museum, London.

He is also a writer, having published both on ancient and contemporary art, including 'Art and Artifact – the Museum as Medium' (Thames & Hudson, 2001) which offers an extensive survey of the relationship between the artist and museum, a subject on which he also lectures.
James Putnam was a Visiting Scholar in Museum Studies at New York University, 2003-2004, Associate Curator at the Bowes Museum, County Durham, UK, 2004-2006, and Senior Lecturer - Criticism, Communication & Curation, University of the Arts, London, 2004-2011.
He is currently Senior Research Fellow,Exhibitions at the London College of Fashion, University of the Arts, London

Press cuttings:
Click here for Interview with Sacha Craddock
Click here for Louisa Buck article
Click here for Rachel Cambell- Johnston article
Click here for Link to Saatchi online article



Click here to download interview with Tim Marlow for Artsworld television
Click here to download interview with Janet Street-Porter for Bloomberg television
Link to his Egyptian paintings images