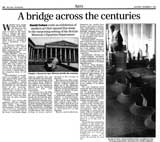 A Bridge across the Centuries



David Cohen visits an exhibition of modern art that opened this week in the surprising setting of the British Museum's Egyptian Department

by David Cohen, The Daily Telegraph, December 3, 1994.

When most people think of the British Museum the first things to come to mind are the mummies –always the most crowded exhibit. The funerary artifacts of ancient Egypt epitomise an institution which itself is a pyramid of sorts: a storehouse, a time-capsule.

An unusual exhibition of contemporary art, which opened this week, plays on these associations and even tries to challenge them.

"Time Machine" was conceived by James Putnam, a curator in the Egyptian Department, as a way of bridging the gap between the remote, enigmatic period he looks after and creative artists of today. The irony is, of course, that, for most museum visitors, contemporary art is as much a closed book as the Egyptian Book of the Dead.

"Time Machine" is an exhibition of sculptures, paintings, mixed-media works and installations by 12 artists hung - or installed - among the monumental carvings and inscriptions on the ground floor of the museum. Although one or two of the artists have worked with Egyptian themes before, Putnam has preferred to entice newcomers, believing they will come up with a fresher approach.

"Fresh" may not be the optimum word for exhibitor Marc Quinn's Frog, a work which entails a deep-frozen (hibernating) North American wood frog suspended within a transparent cast of the artist's own head. Quinn achieved notoriety last year with a similarly conceived self-portrait in several pints of his own frozen blood. Whatever the aesthetic merits of his project, there is no denying an affinity with the Egyptian obsession with self-preservation.

In a formal sense, the influence of Egypt on modern art has been remarkably slight, despite the fact that the popular imagination has been gripped by the pharaohs since Howard Carter unlocked the tomb of Tutankhamun in 1922. The phenomenal attendance of the blockbuster exhibitions of King Tut's treasure in 1972 complements the endless stream of horror movies devoted to revenge of pharaohs.

But pioneering 20th century artists turned away from the hieratic, codified, highly finished art of the Egyptians, looking for inspiration to very different ancient and primitive cultures, to African, Oceanic, or Pre-Columbian art.

Egyptian art was not rough or primordial enough for the Cubists or Expressionists. Perhaps current Conceptual artists will be more likely to find common cause with a visual culture that draws text and image so closely together, is dominated by ideas, and is so anti-expressive as the Egyptian.

Because, in the world of contemporary art, curators have become such power brokers, their counterparts in historic collections feel left out of the limelight. Bringing living artists into the galleries could be a way of compensating for being lumped with static, unchanging displays.

But many people visit museums to feel in touch with the past and don't want constant reminders of the present. The British Museum has a staggering seven million visitors a year, a statistic that no gallery showing contemporary art could rival.

Encountering CD-Rom art, "sound sculpture" and photographic installations is bound to upset someone's fantasy of meeting Nefertiti or Cleopatra that afternoon.

However, "Time Machine" is a responsible and genuinely responsive exhibition and it is relatively transparent in that the eye can edit out the contemporary interventions if it wants to. While a couple of tomb doors are temporarily covered up with panels by the young Scots artist Kate Whiteford, the only intrusive piece, in my opinion, is by Liliane Karnouk.

The sole Egyptian artist among the dozen international exhibitors, she turns a 5th century B.C. granite sarcophagus into a theatrical prop by surrounding it with metal railings, which have test-tubes hanging from them, each containing a live date-palm.

Andy Goldsworthy, more sensitive to the viewing experience, has discreet sand or stone works actually inside sarcophagae. The natural inclination to peep into an empty coffin is rewarded with an unexpected, poetic evocation of growth and renewal –not just a bald statement about it as in the case of Karnouk.

The great legacy of Egyptian sculpture is the power and solemnity of direct stone carving, and three contemporary artists who work in this tradition are represented. Peter Randall-Page has carved an Uroburos, the archetypal figure of a snake devouring its own tail.

Stephen Cox has often worked in Egypt since he won a commission for the Cairo Opera House in the 1980s. On that occasion, the government allowed him to quarry Imperial porphyry from a mine that had not been used since the Romans. He uses the material in the powerful, menhir-like divinity here.

Igor Mitoraj, an exponent of elegiac classicism, has copied a 10th century engraving of a colossal head at Heliopolis. But Czech-born Jiri Kolar gets even close to his source while remaining true to his Surrealist instinct for irreverence: he has enveloped a replica cast of the 3,000-year-old Gayer-Anderson cat with an astral chart and placed it next to the original.

In its mixture of affection and enigma, Kolar's cat is probably an accurate gauge of the modern response to Egyptian art.