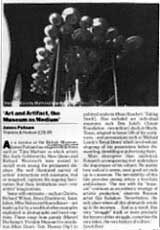 'Art and Artifact, the Museum as Medium' by James Putnam, Thames & Hudson £29.95



reviewed by Sarah Kent, Time Out, Christmas Issue 2001.

As a curator at the British Museum, James Putnam has staged exhibitions such as 'Time Machine' in which artists like Andy Goldsworthy, Marc Quinn and Richard Wentworth were invited to install work among the permanent displays. His well illustrated survey of artists' interactions with museums, real or imagined, captures the ongoing fascination that these institutions exert over artists' imaginations.

Some odd omissions –such as Christo, Richard Wilson, Braco Dimitrievic, Isaac Julien, Mike Nelson and Karen Knorr- are made up for by a wealth of other examples explained in photographs and lucid captions. These range from parody (Marcel Duchamp's 'Portable Museum') to emulation (Marc Dion's 'Tate Thames Dig') to political analysis (Hans Haacke's 'Taking Stock'). Also included are individual museums such Don Judd's Chinati Foundation –two military sheds in Marfa, Texas, adapted to house 100 of his sculptures– and provocations such as Michael Landy's 'Break Down' which involved cataloguing all his possessions before dismantling, shredding or pulverizing them.

More descriptive than analytical, Putnam's accompanying text underplays the importance of his subject. No matter how radical it seems, most good art ends up in a museum. The inevitability of this fate provokes among artists a love-hate ambivalence. 'The war with the 'museum' continues as an ordinary strategy of artistic production', observes Russian artist Ilya Kabakov. "Nevertheless, the only place where all this ultimately winds up is the museum… And as a result, this very 'struggle' itself, or more precisely the history of this struggle, comprises the very fabric, the very history of culture".